Documentaries or films about Blackpool.
Many of the early movies were shown in cinemas, with the later ones being on television.
1899 Blackpool: Panorama of the Sea Front
1899 Blackpool: The Parade
1900 Church Parade on North Pier, Blackpool
1904 Blackpool : Victoria Pier
1914 Fun on the Sands at Blackpool
1913 "Blackpool – The Coney Island of England" an American documentary.
1917 "Bunkered at Blackpool" a silent film starring Harry Lauder featured scenes from all over Blackpool.
1918 "Hindle Wakes" starred Colette O'Neill and Norman McKinnon and was filmed in the Palace Ballroom, the Tower and the Pleasure Beach. It was remade three times for the cinema and once for television.
1926 "Hindle Wakes" starred Estelle Brody and Peggy Carlisle and was filmed in the Pleasure Beach.
1928 "The Three Kings" was a circus film, made in the Tower Circus and at the Pleasure Beach, starring John Hamilton and directed by Hans Steinhof.
1930 "No Lady" was shot at the Pleasure Beach, starring Lupino Lane.
1931 "Hindle Wakes" was shot partly on location at the Pleasure Beach, starring Edmund Gwenn, Sybil Thorndike, Belle Chrystall and Mary Clare.
1931 "City of Pleasure" was based on Arnold Bennett's 1907 story and filmed in town and at the Pleasure Beach.
1934 "Sing as We Go" starred Gracie Fields and was partly filmed at the Tower Circus.
1937 "Cotton Queen" starred Will Fyffe and Stanley Holloway and was filmed around the Pleasure Beach.
1941 "Love on the Dole" starred Deborah Kerr and Clifford Evans, and was partly filmed around Blackpool.
1943 "They met in the Dark" starred James Mason and was partly filmed in Blackpool.
1947 "Dick Barton Strikes Back" starred Don Stannard and Sebastian Cabot and featured a fight scene on the Tower.
1947 "Dual Alibi" starred Herbert Lom and was partly shot in the Tower Circus.
1948 "Holidays with Pay" starred Frank Randle and Tessie O'Shea and was filmed in and around Blackpool.
1949 "Forbidden" starred Douglas Montgomery, Andrew Cruikshank and Patricia Burke.
1952 "Hindle Wakes" starred Sandra Dorne, Leslie Dwyer and Joan Hickson was part filmed at the Pleasure Beach and the Tower Ballroom.
1960 "The Entertainer" starred Laurence Olivier and although set in Blackpool, was actually filmed in Morecambe.
1961 "A Taste of Honey" starred Rita Tushingham and was filmed at the Pleasure Beach and the beach.
1962 "A Kind of Loving" starred Alan Bates and June Ritchie (from Blackpool and was partly filmed on St Anne's promenade.
1969 "Sling Your Hook" in the BBC's Wednesday Play series followed a group of Nottingham miners on a trip to Blackpool.
1972 "Nearest and Dearest" starred Hylda Baker and Jimmy Jewel on holiday in Blackpool And featured filming on Tyldesley Road and the Pleasure Beach.
1975 "Blackpool by the Sea" was a documentary directed by Heather Holden.
1975 "The Evacuees" by Jack Rosenthal starred Maureen Lipman and Ray Mort. It was filmed in and around Blackpool.
1976 "Second City Firsts: Summer Season" starred Paul Shane and was set in Blackpool.
1977 "Valentino" starred Rudolph Nureyev and was partly filmed in the Tower Ballroom and the circus.
1980 "The Great British Striptease" was filmed in Blackpool, starring stripper Lisa Taylor and comedian Bernard Manning.
1983 "Slayground" starred Peter Coyote, Mel Smith, and Billie Whitelaw and was partly filmed at the Pleasure Beach.
1987 "Treacle" starred Stephen Tompkinson and Freddie Davies and was filmed in town.
1988 "Angel Voices" a BBC play was about a trip to Blackpool by a boys' choir. It starred Alan Rothwell.
1990 "Oranges are not the only fruit" starred Charlotte Coleman and Catherine Bradshaw and was partly filmed in Blackpool.
1990 "Coasting" starred Peter Howitt and was filmed around the Pleasure Beach.
1992 "Bossanova Blues" was set in Blackpool and featured three young people who were thought to be Irish terrorists.
1993 "UFO" starred Roy "Chubby" Brown. Chubby is captured by a gang of feminist aliens from the 25th Century and beamed up to their spaceship during his live show in Blackpool.
1993 "Tomorrow Calling" was a Short & Curlies presentation shot in Blackpool and Pinewood with Colin Salmon and Toyah Wilcox.
1993 "The Last Dance" was a film by Colin Nutley about a young Swedish couple involved in a ballroom dancing love story. It was filmed in Stockholm, Blackpool and Barbados.
1994 "Funny Bones" starred Lee Evans, Jerry Lewis and Lesley Caron, and was directed by local man Peter Chelsom at the Tower Circus, the Pleasure Bach and on the beach.
1994 "Bhaji on the Beach" starred Jimi Harkishin and Kim Vithana, and was directed by Gurinder Chadha, being filmed on Blackpool beach.
1994 "Seaview Knights" starred James Bolam in a fantasy about a man who has a painting fall on his head while asleep in a Blackpool guesthouse.
1995 "Dreamtown" was written by and starred David Thewlis. Thewlis returned to the town of his childhood visiting the anatomical exhibitions at the waxwork museum, the Pleasure Beach, the Tower Ballroom and the Odditorium.
1996 "Shall We Dansu" a Japanese film, which closes with a scene at the World Ballroom Dancing Championships in Blackpool. The 2004 remake, "Shall we Dance", starring Richard Gere and Jennifer Lopez does not show the town as Ms Lopez – diva extraordinaire – refused to come to Blackpool.
1996 "Married to Malcolm" starred Mark Addy and Josie Lawrence and was partly shot in Blackpool, where Addy played a karaoke-singing taxi driver.
1996 "Bob's Weekend" starred Bruce Jones, Ricky Tomlinson and Brain Glover. It was filmed around town and at North Pier, where Jones's character thinks about suicide.
1998 "Like It Is" starred Roger Daltrey and Steve Bell. The opening scenes were filmed in the Flamingo club.
1999 "Whatever Happened to Harold Smith" starred Tom Courtenay and Vince Smith in a film about psychic powers and love in the 1970s. It featured the Pleasure Beach.
1999 "Adult Lives" – Bradford People worked with BBC 2 to make a documentary about relationships and sexuality of people with learning disabilities. The documentary was filmed in Blackpool and screened on TV the following year.
1999 "Strippers" was a documentary filmed about life in Images Table Dancing Club.
2001 "The Parole Officer" starred Steve Coogan as a Blackpool Parole Officer.
2001 "Vacuuming Completely Nude in Paradise" was partly filmed in Blackpool. It starred Timothy Spall as a vacuum salesman.
2002 "The Quest" starred David Jason and Roy Hudd reminiscing about their youth on holiday in Blackpool and the Lake District. Partly filmed at the Renton Guest House on Rigby Road.
2003 "My Family and Autism" this documentary about the Jackson family was partly filmed in Blackpool.
2004 "Punch" starred Suranne Jones and Jeff Hordley running a burger bar on the beach.
2005 "Heatwave" starred mainly unknown actors, but narrated by Bernard Hill, and was filmed partly at the Pleasure Beach.
2005 "Douglas Byrne: Freelance Journalist" was filmed in and around Lancashire, about a journalist who invented a story about a seagull stealing Blackpool Tower.
2005 "Madrasi" – an International Indian Production: filmed on location in Blackpool and Lancaster.
2006 "Mobile" a three-part ITV drama about mobile phone related murders, was partly filmed at Weeton Barracks.
2006 "Viva Blackpool" – a one-off sequel to "Blackpool", starring David Morrisey.
2007 "Boy A" Jack Burridge (Andrew Garfield) is released from prison and, with the help of his case worker Terry (Peter Mullan), sets about trying to leave his past behind.
2007 "Super Casino" was filmed around Blackpool and is about Blackpool's bid for Super Casino status.
2008 "Reflections" directed by Ashok Baker is a story about three Blackpool students.
2008 "Tough Justice" directed by Peter Hallett, is a martial arts thriller filmed in Blackpool.
2009 "Nowhere Man" a film about the life of John Lennon, and starring Kristin Scott-Thomas and Anne-Marie Duff, was partly filmed in Trafalgar Road in Blackpool.
2009 "Blackpool, Joe" a short film by Kate Murphy about an old lady and her pet, was filmed in Blackpool.
2009 "Can you bank on me?", a short filmed at the Queens Hotel, South Promenade.
In addition to the above, the town has been used as the setting for many television series,  such as:
Blackpool Night (1958)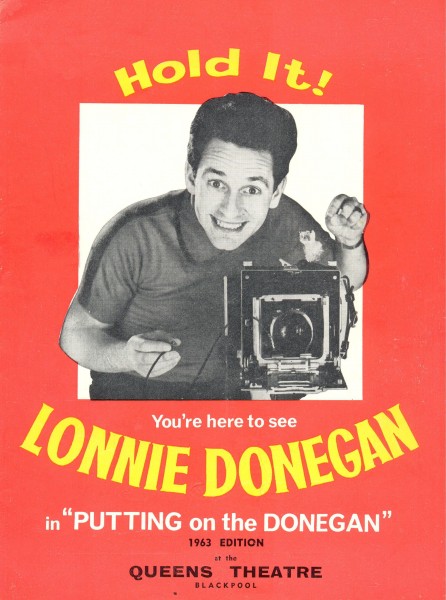 Putting on The Donegan (1963)
Big Night Out (1964) from the ABC
Blackpool Night Out (1964) from the 5th of July until the 8th of September at the ABC
Blackpool Night Out (1965) from the ABC Theatre, with Mike and Bernie Winters, Cilla Black, Ray Alan, Lionel Blair and Bob Sharples was filmed for ITV
The Blackpool Show (16 shows between June 1966 and August 1967)
Come Dancing (1970s) from the Tower Ballroom
Odd Man Out (1977)
Paul Daniels' Blackpool Bonanza (1978)
Rising Stars (1979) from the ABC with Arthur Askey
Summertime Special (1981)
Airline (1982)
Seaview (1983)
Lost Empires (1986)
Coasting (1990)
The Wetter the Better (1990) from the Sandcastle
September Song (1993)
Pleasure Beach (1998) a six-part series filmed in 1997
The Entertainers (2002)
Ted and Alice (2002)
Blackpool (known as Viva Blackpool in America) (2004)
Heatwave (2005)
Funland (2005) filmed on Bond Street
Hotel on Sea (2005)
Blackpool Medics (2007 & 2008) from Victoria Hospital
Red Riding Trilogy (2008) for Channel 4 – based on the best-selling David Peace novels
Blackpool on Film (2010) a BBC4 documentary featuring new and historical scenes
Backstage Blackpool (2011) for Sky TV – a 12–week series showing behind the curtain of the Blackpool entertainment scene
999: What's Your Emergency? (2012) a Channel 4 documentary series followed all three emergency services around the resort
View other Films about Blackpool