22 May 2012
Comments Off

on Famous Blackpool People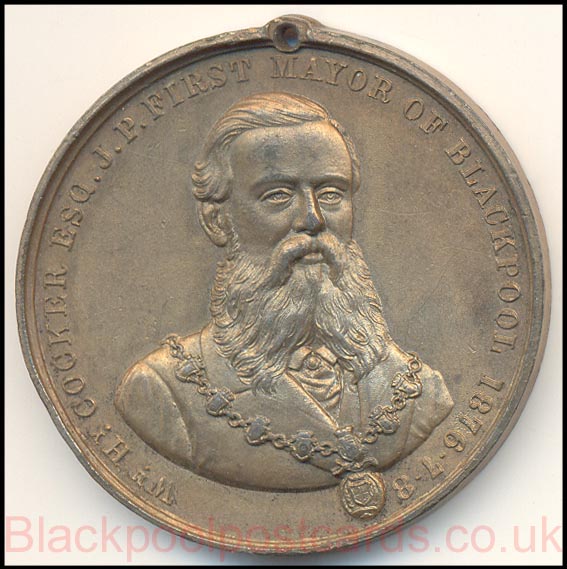 First Mayor of Blackpool 1876-7-8. William. Henry Cocker Esq. J.P.
An Evening Gazette feature about William H Cocker, with extracts from Ted Lightbown.
William was born on December 9th 1836 in a house built by his father at Hygiene Terrace on the promenade where the Lewis's store was located a few years ago, later Woolworths, now T.J. Hughes. In 1858, he married Betsey Pilling of Rochdale, who died in 1908. Their marriage was childless, as was his brother's. William's father was Dr John Cocker, who came to Blackpool from Tockholes, near Darwen, in 1828
He too had been a Blackpool pioneer, erecting the resort's first public entertainment hall, the Victoria Promenade, in 1837. It survived at the corner of Victoria Street and Bank Hey Street until demolished just 11 years ago. It is now the site of a fancy jewellery shop. John Cocker married Jane, the younger daughter of Henry Banks, whose estate stretched up Church Street in the early years of the 19th century. In 1851, Dr John Cocker bought Bank Hey House at the top of Victoria Street. In 1875, three years after John's death, William was able to offer his late father's house and other former Banks' land for the site of the Winter Gardens and, in fact, part of the 1846 house survives inside the Winter Gardens today
1875 was also the year that Dr Cocker gave up his practise as a surgeon and opened a menagerie and aquarium to the public in what had been the Prince of Wales Arcade and previously the large mansion West Hey
It became the site of the Tower and the aquarium was incorporated into the Tower Buildings, an area which survived until Merlin's current work of turning it into a dungeon attraction. The fish and other aquatic creatures are said to have gone down the promenade to the Sea Life centre
The man who was Blackpool's first mayor and first freeman died on Good Friday April 14th 1911, and was buried on April 18th. Buried at St. John's church in the town centre, and relocated during recent work in the area known as St. John's Square
His philosophy was that money was there to be used, and he spent much on entertaining, most famously when he picked up the tab for the lavish banquet held for the Lord Mayor of London and the mayors of 68 towns at the opening of the Winter Gardens in 1878
Having once lived in large bungalows on Bond Street and at Bloomfield Road, now the site of a Lidl store, he ended up in relative poverty in a modest house on Whitegate Drive
Blackpool received its Charter of Incorporation and became a Municipal Borough on January the 21st 1876 and "Progress" was chosen as the town motto.
Academia and research
Valerie Austin (born 1948), hypnotherapist and writer
Arts and entertainment
Bill Ashton (born 1936), jazz saxophonist and composer
David Atherton (born 1944), conductor
David Ball (born 1959), music producer and musician
Zoë Ball (born 1970), television and radio presenter
Zoë Louise Ball (born 23 November 1970 in Blackpool, Lancashire)is an English television and radio personality, most famous for becoming the first female host of the BBC Radio 1 breakfast show and for her earlier work presenting the 1990's children's show, Live & Kicking
Steve Barker (born 1971), film director and screenwriter
Lennie Bennett (1938–2009), comedian and television presenter
Lennie Bennett (26 September 1938 – 8 April 2009) was an English comedian and game show host.  After attending the Palatine Secondary School in Blackpool, Bennett became a journalist for the West Lancashire Evening Gazette before becoming a professional entertainer and appearing on The Good Old Days in 1979. Bennett starred in the Lennie and Jerry Show with Jerry Stevens. It ran from 1978 to 1980. He was also the host of Punchlines and Lucky Ladders in the 1980's
Cathryn Bradshaw, born 1964 actress theatre, television, radio, film
Charlie Cairoli (1910–1980), Italian-born clown based in Blackpool
Roy Calley, journalist
Frank Carson, Northern Irish comedian based in Blackpool
Peter Chelsom (born 1956), film director and actor
Jenna-Louise Coleman (born 1986), actress
Robert Crampton (born 1964), journalist
Raine Davison (born 1984), actress
John Evan (born 1948), musician
Sonny Flood (born 1989), actor
Dan Forshaw (born 1981), musician
Errol Fuller (born 1947), author and painter
Hamish Hamilton (born 1966), concert and award ceremony director
Jeffrey Hammond (born 1946), musician
Roy Harper (born 1941), musician
Barney Harwood (born 1979), television presenter
Emilios Hatjoullis (born 1939), cartoonist and graphic designer
Curtis Jobling (born 1972), illustrator and animator
Patrick Keiller (born 1950), film director
Jacqueline Leonard (born 1965), actress
Little Boots (Victoria Hesketh, born 1984), singer-songwriter
Syd Little (born 1942), comedian
Joe Longthorne (born 1955), singer
Chris Lowe (born 1959), musician
Chris Lowe (born Christopher Sean Lowe, 4 October 1959) is an English musician, who, with colleague Neil Tennant, makes up the pop duo Pet Shop Boys. Chris attended Arnold School, an independent school in his home town of Blackpool, Lancashire. He also worked in the Solarium. While there, Lowe played trombone in a seven-piece dance band called One Under the Eight, that played old-time favourites like "Hello Dolly", "La Bamba" and "Moon River"
John Mahoney (born 1940), US actor (born in Bispham)
Nicholas McCarthy (born 1974), musician
Tania Mallet (born 1941), model and actress
Gary Miller (1924–1968), singer and actor
Pauline Moran, actress
David Morley (born 1964), poet
Janet Munro (1934–1972), actress
Sarah Myerscough, sculptor
Graham Nash (1942), singer-songwriter
Bernadette Nolan (born 1960), Irish-born singer and actress
Coleen Nolan (born 1965), singer and television presenter
Jodie Prenger (born 1979), singer and actress
Maddy Prior (born 1947), singer
Carol Royle (born 1954), actress
Nikki Sanderson (born 1984), actress and model
Robert Smith (born 1959), musician
John Sumner (born 1951), actor
David Thewlis (born 1963), actor
Darrell Till (born 1975), singer-songwriter
Vicki-Lee Walberg, model
John Watson, comic book artist
Chris Wiggins (born 1931), actor
Tony Williams (born 1947), musician
Business
Mike Bateson, former football club chairman
William Lyons (1901–1985), co-founder of the Swallow Sidecar Company
Owen Oyston (born 1934), business man and football club owner
Owen John Oyston (born in County Durham in January 1934) is a controversial self-made multimillionaire English businessman who is the majority owner of Blackpool F.C. At the age of two, Oyston's family moved to Blackpool. He was educated at St. Mary's Catholic College. He left school at sixteen and started his career as an actor. He briefly starred as a barrister in Granada TV's 1970s afternoon television courtroom drama series, Crown Court.
Military
John Schofield (VC) (1892–1918), soldier and Victoria Cross recipient
Politics, government and legal
George Carman (1929–2001), barrister
Neil Fletcher (born 1944), politician
Tom McNally (born 1943), politician
Science and health
Sheila Quinn (born 1920), nurse
Michael Smith (1932–2000), biochemist
Sports
William Anderton (born 1879), footballer
Jimmy Armfield (born 1935), footballer
Paul Askham (born 1962), figure skater
Malcolm Barrass (born 1924), footballer
Chris Beech (born 1974), footballer and coach
Matthew Blinkhorn (born 1985), footballer
Jamie Burns (born 1984), footballer
Alan Burton (born 1991), footballer
Joe Cardle (born 1987), footballer
Louis Cardwell (1912–1986), footballer
Ronnie Clayton (1923–2007), boxer
Harry Cookson (1869–1922), footballer
Kenny Cooper, Sr. (born 1946), footballer and coach
Steven Croft (born 1984), cricketer
Ciaran Donnelly (born 1984), footballer
Teddy Duckworth (born 1882), footballer
Dave Durie (born 1931), footballer
George Eastham (born 1936), footballer
George Eastham, Sr. (1914–2000), footballer and manager
David Edge (born 1954), long-distance runner
Lester Ellis (born 1965), boxer
Andy Gouck (born 1972), footballer
Peter Harding (1924–2007), rock climber
Steve Harrison, footballer, manager and coach
Steve Hill (born 1940), footballer
John Hills (born 1978), footballer
Micky Holmes (born 1965), footballer
John Hurst (born 1947), footballer
Herbert Jones (1896–1973), footballer
Matty Kay (born 1989), footballer
Darran Kempson (born 1984), footballer
Roger Kenyon (born 1949), footballer
Graham Lancashire (born 1972), footballer
Brian London (born 1934), boxer originally from Hartlepool
Andrew Lyons (born 1966), footballer
Gavin McCann (born 1978), footballer
Ben Marsden (born 1979), field hockey player
Barrie-Jon Mather (born 1973), rugby player
Jamie Milligan (born 1980), footballer
Kevin Moore (born 1956), footballer
Lee Morris (born 1980), footballer
Reginald Neal (born 1914), footballer
Wes Newton (born 1977), darts player
Michael Page (born 1941), cricketer
Jack Parkinson (1869–1911), footballer
Wilfred Proctor, footballer
Jesse Pye (1919–1984), footballer
James Schofield (born 1978), cricketer
R Shaw (born 1977), footballer
Len Stephenson (born 1930), footballer
Frank Swift (1913–1958), footballer
David Tong (born 1955), footballer
Albert Turner (1901–1985), footballer
Roger Uttley (born 1949), rugby player
Ted Wade (born 1901), footballer
Dennis Wann (born 1950), footballer
Mark Westhead (born 1975), footballer
Daniel Whiston (born 1976), ice skater
Derek Woodman, motorcycle racer
Shelly Woods (born 1986), wheelchair racer
Miscellaneous
Cynthia Lennon (born 1939), first wife of musician John Lennon
Rachel McLean (1971–1991), murder victim
James Wannerton, medical subject