4 January 2012
Comments Off

on South Pier – Summer Season Programmes
Read about Blackpool's History
>>>
here <<<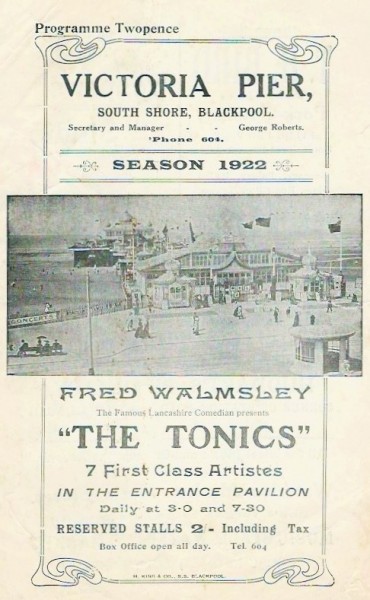 Souvenir Programme – 1922
Fred Warmsley – " The Tonics"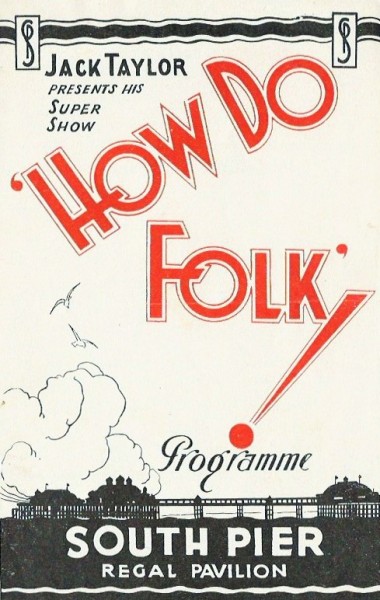 How Do Folk ! – 1942
Norman Evans, Georgie Wood, Dolly Harmer and Joe Crastonian
Arcadian Follies – 5th Oct to 11th Oct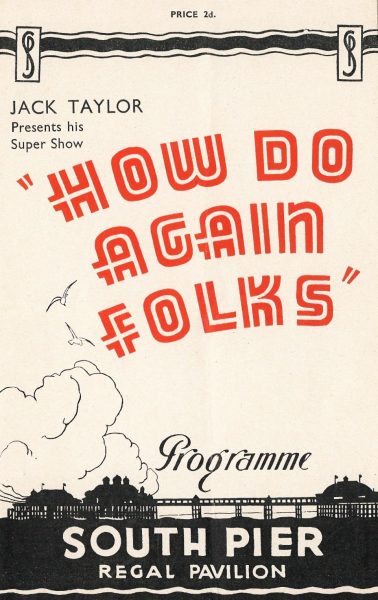 How Do Again, Folk – 1943
Norman Evans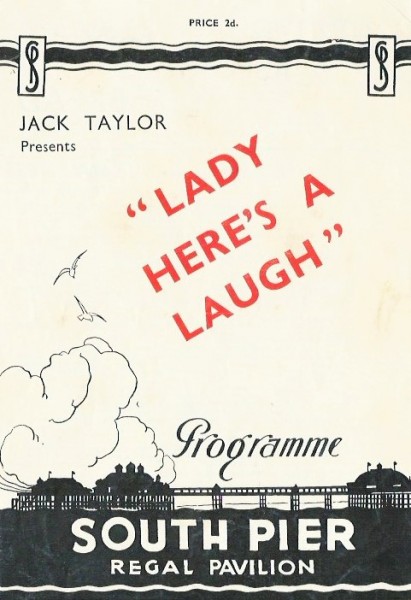 Lady Here's A Laugh – 1944
Duggie Wakefield, Billy Nelson, Jimmy Clitheroe, Karina, Albert Burdon and Donald Peers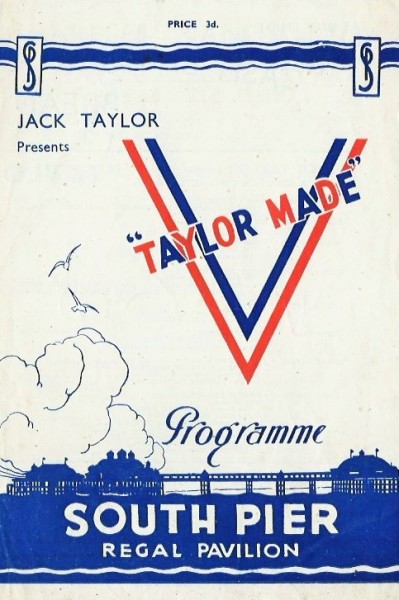 Taylor Made – 1945
Frank Randle, Donald Peers, Jimmy Clitheroe, Albert Burdon, Freda Barrie, Gladys Church and Gus Aubrey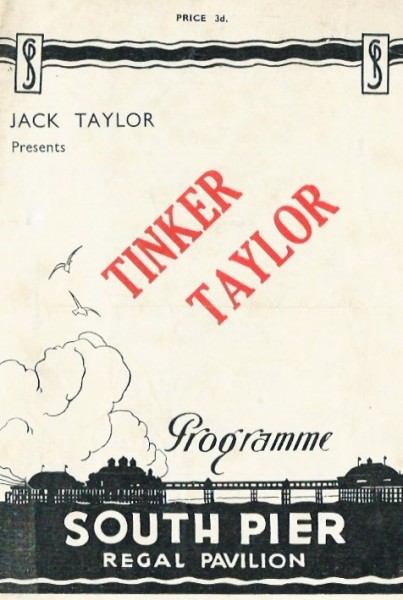 Regal – Tinker Taylor – 1946
Frank Randle, Norman Evans, Tessa Deane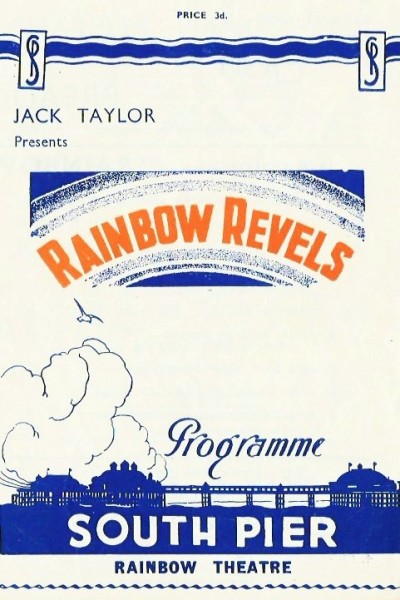 Rainbow – Rainbow Revels – 1946
Albert Burdon, Jimmy Clitheroe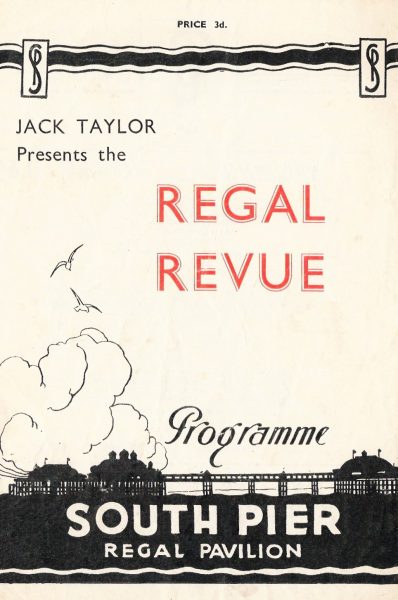 Regal – Regal Revue – 1947
Frank Randle & Co. Sally Barnes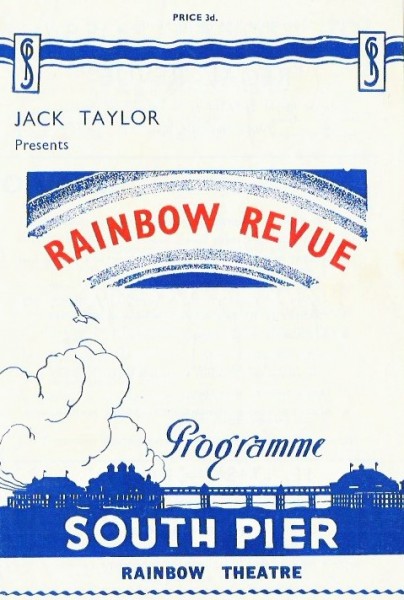 Rainbow – Rainbow Revue – 1947
Jimmy Clitheroe, Albert Burdon, Freda Barrie, Karina and Janet Haley
Regal – Dave Morris Show – 1948
Dave Morris and the 'Dave Morris' Rainbow Revellers' starring Allen brothers and June, Tom- Katz Saxophone six, Marion Sanders, Tony Ventere, Jack Walker, Gene Anderton, Billy Smith, Harry Vardon, Wally Wood, Evans and Bevans, Valerie Rayburn, Talbot Brown, Nancy Stevens, The John Joyce Four, Rob Douglas, Guy Holloway, Ray Penn and Peter Johnson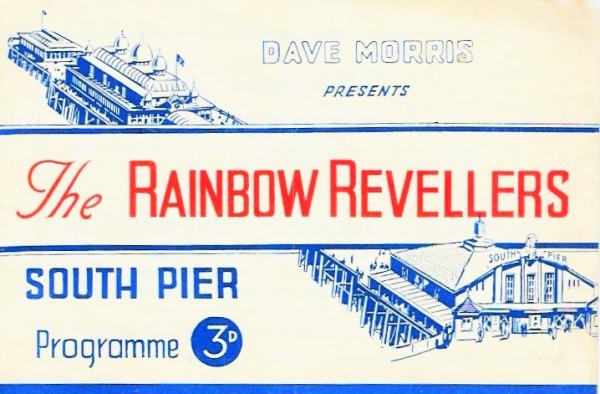 Rainbow – The Rainbow Revellers – 1948
Wally Wood, Evans & Bevan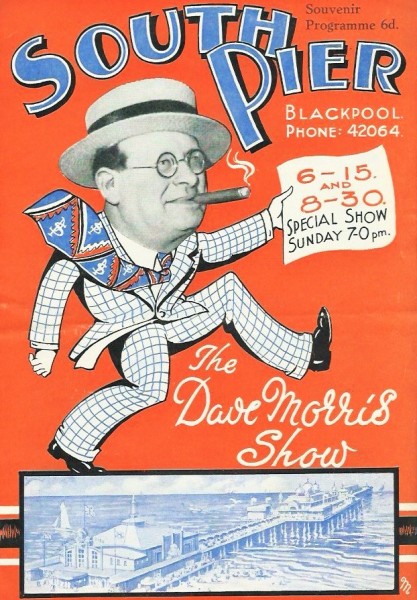 Regal – The Dave Morris Show – 1949 
Rainbow – The Rainbow Revellers – 1949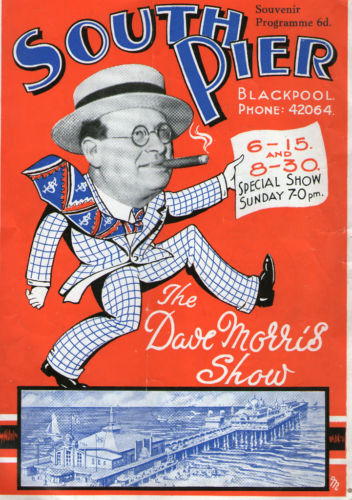 Regal – The Dave Morris Show – 1950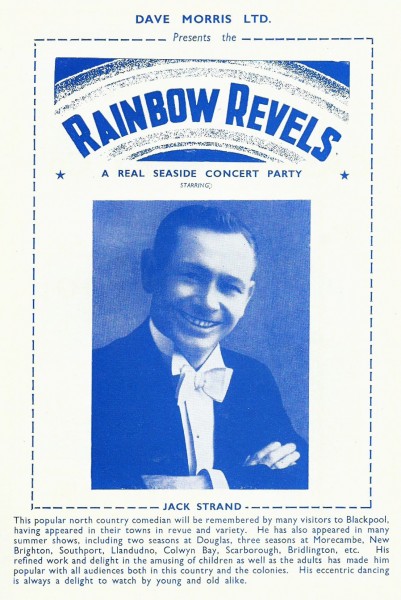 Rainbow – The Rainbow Revels – 1950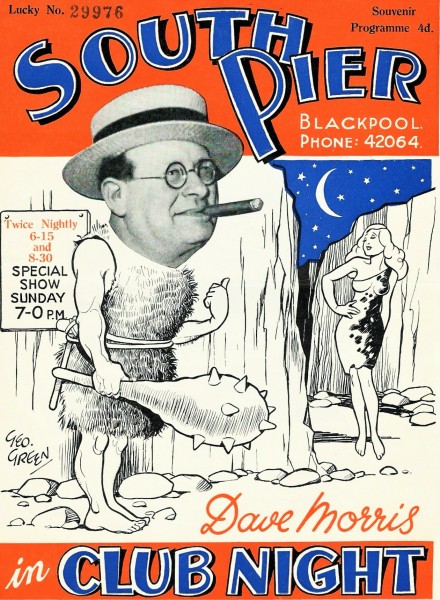 Dave Morris in Club Night – 1951
Dave Morris, Billy Smith, Fred Ferris, Joe Gladwin, Anna Alexis, Betty Sagon, Frank Bass, Paul Waring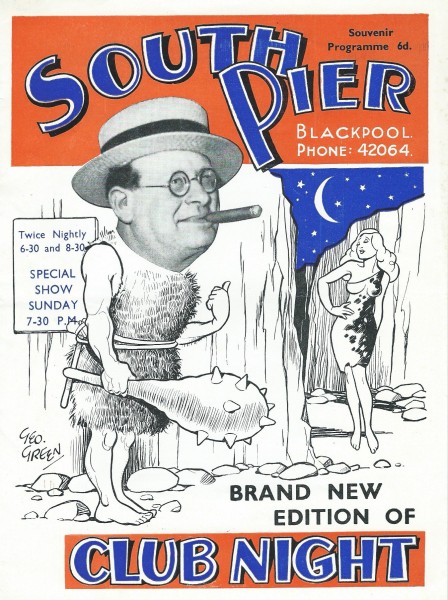 Regal – Dave Morris in Club Night – 1952
Dave Morris, Harry Marsh, Joe Gladwin, Phil Riley, Paul Waring, Keith Cairns, Bette Lee, Jean Ritchers
Rainbow – 1952
Charlie Parsons and his Rainbow Pierrots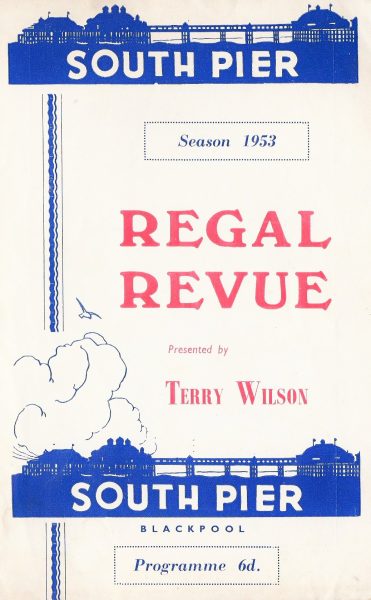 Regal Revue – 1953
Bill Waddington, Terry Wilson, Mavis Whyte, Zampanela,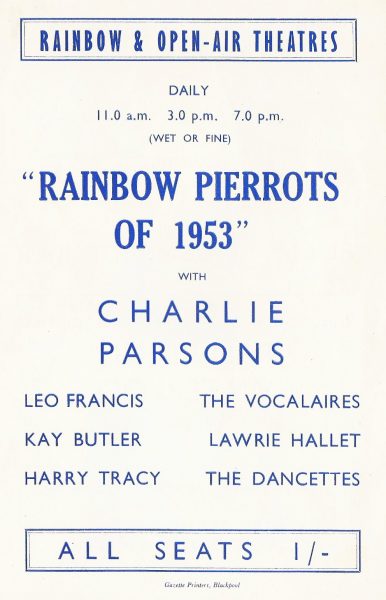 Rainbow – 1953
Rainbow Pierrots of 1953
Regal – She's Funny That Way – 1954
Gladys Morgan and Kirk Stevens
Rainbow – 1954
Rainbow Pierrots of 1954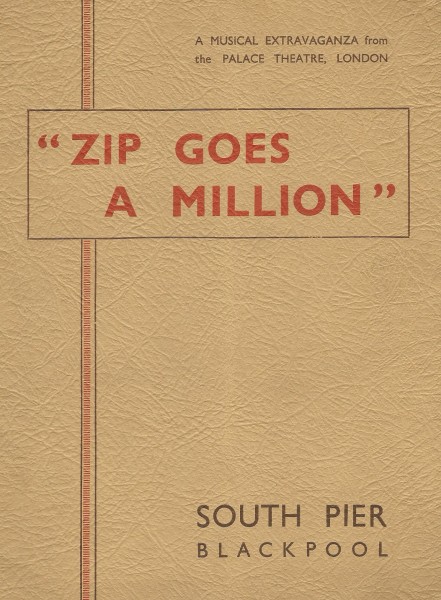 Regal – Zip, Goes a Million – 1955
Tom Moss, Garter Girls, Percy Pickles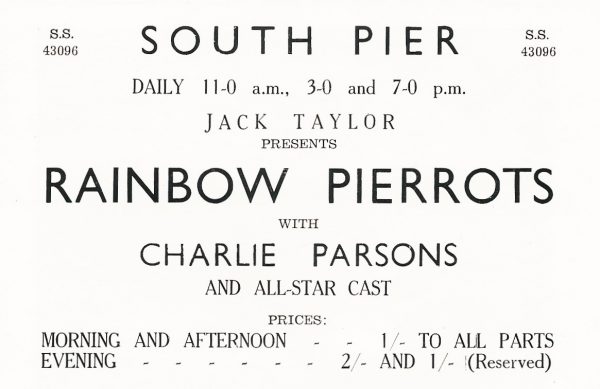 Rainbow – 1955
Charlie Parsons and his Rainbow Pierrots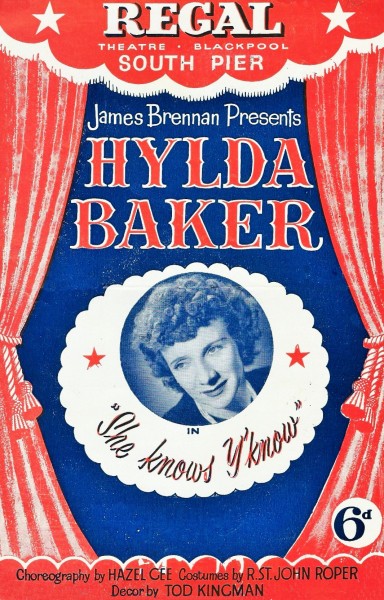 Regal – She Knows Y'Know – 1956
Hylda Baker, Albert and Les Ward, Billy McCormack, Donovan and Hayes, Viki Emra and Hazel Gee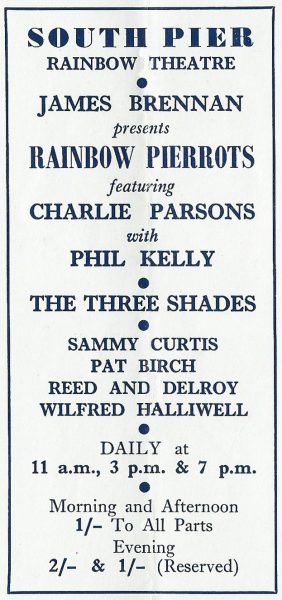 Rainbow – 1956
Rainbow Pierrots, Charlie Parsons, Phil Kelly, The 3 Shades
Regal – Rockin' the Pier – 1957
Denny Willis, Wilson Keppel and Betty, Gilbert, Billie Wyner, Tony Vallance, Eileen Keegan, Johnnie Mack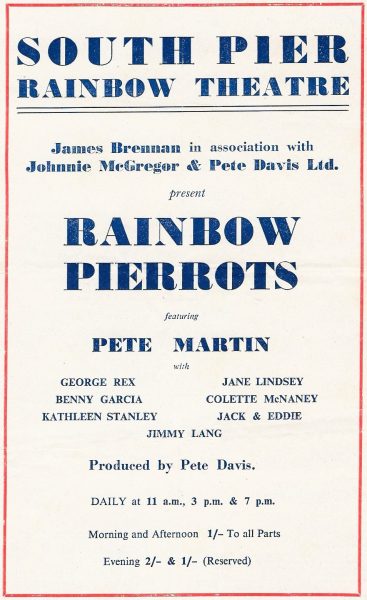 Rainbow – 1957
Rainbow Pierrots, Pete Martin, George Rex, Benny Garcia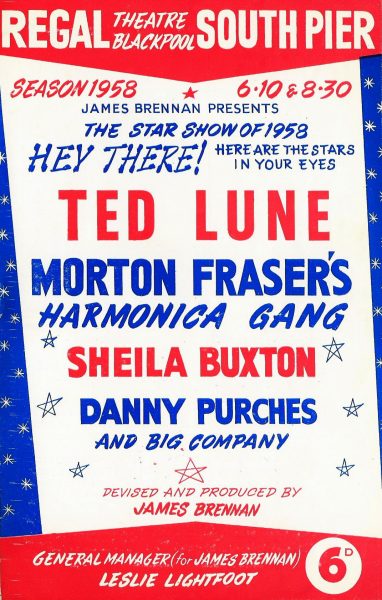 Regal – Hey There ! – 1958 
Norman Evans (taken ill) until Aug. 2nd, then from Aug. 4th Ted Lune, Shelia Buxton, Morton Fraser's Harmonica Gang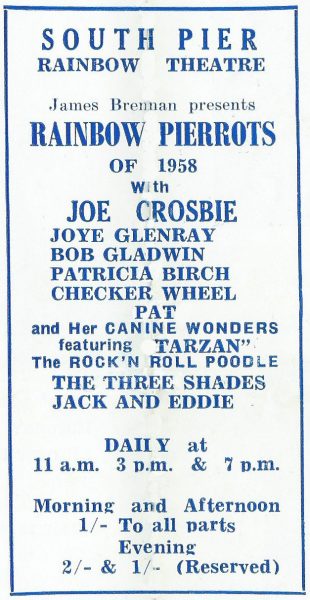 Rainbow – 1958
Dave's Back – 1959 
Dave Morris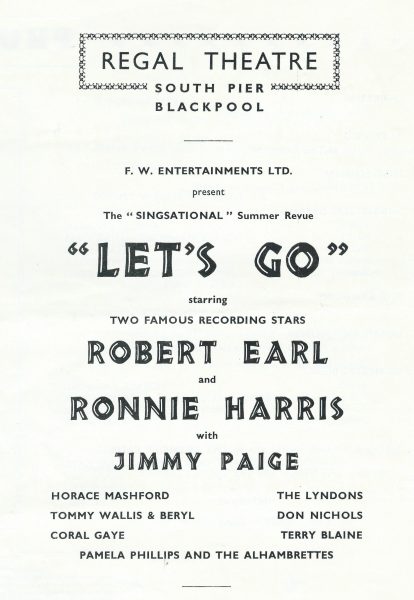 Regal – Let's Go – 1960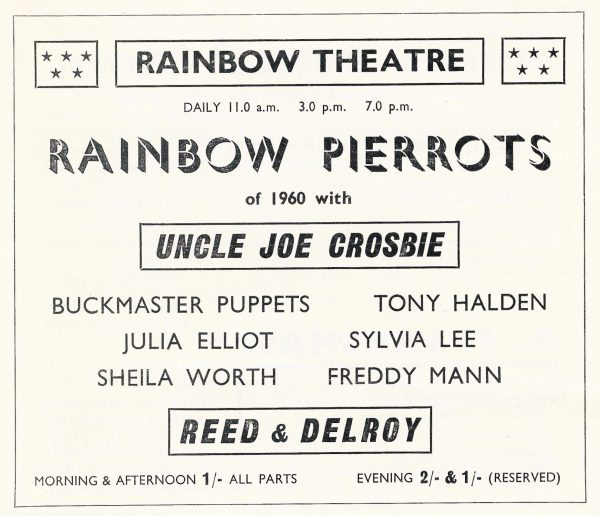 Rainbow – 1960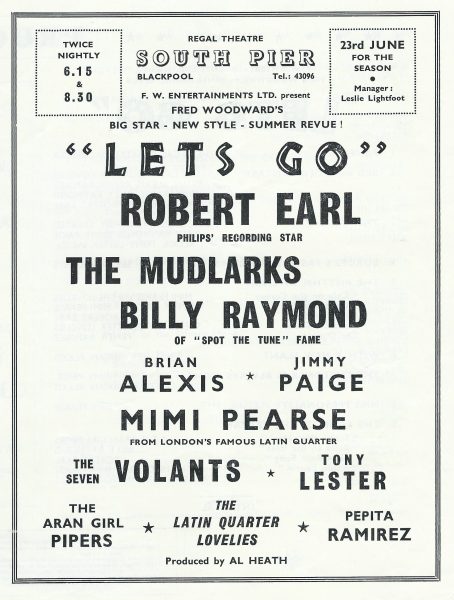 Regal – Lets Go – 1961
Robert Earl The Mudlarks Billy Raymond Brian Alexis Jimmy Paige Mimi Pearse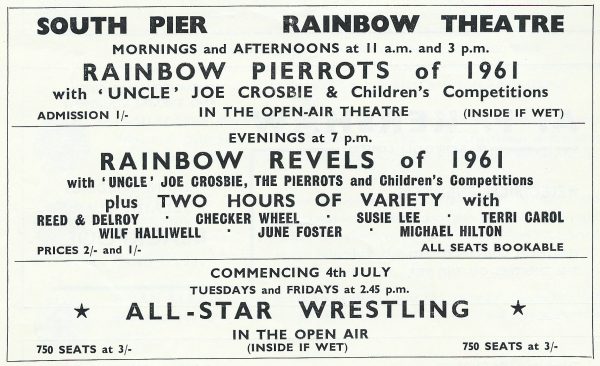 Rainbow – 1961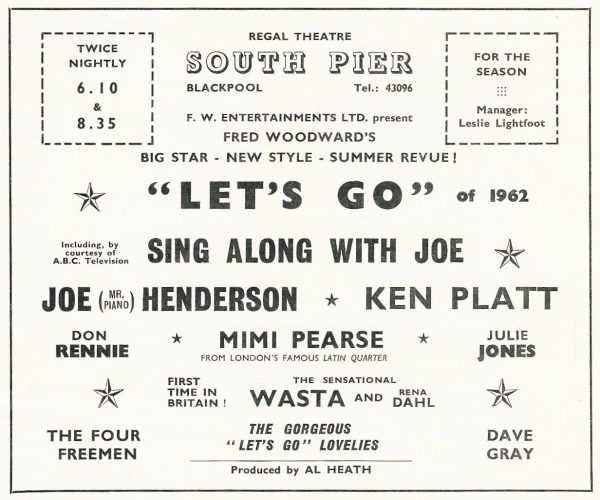 Regal – Lets Go – 1962 
Joe Henderson, Ken Platt, Don Rennie, Julie Jones and Mimi Pearse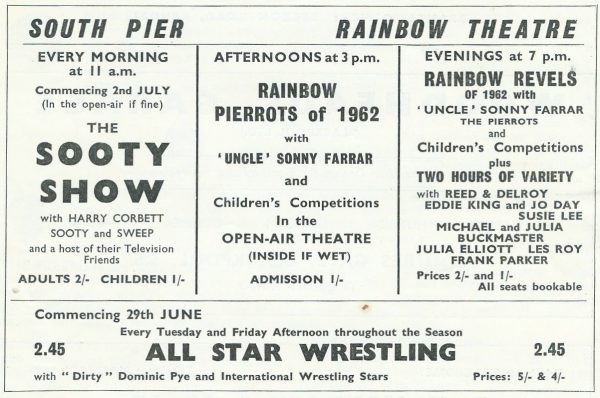 Rainbow – Rainbow Pierrots of 1962
In 1962 the Regal Theatre was leased to Mr. T.H. Laine, and converted in the Beachcomber amusement arcade.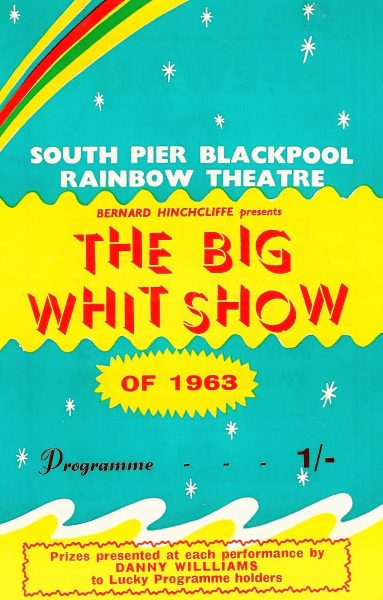 The Big Whit Show of 1963
1st June to 9th June inclusive
Danny Williams, Sheila Buxton, Ted Lune, Peter Cavanagh, Ray Peters, Voltairs with Sammy King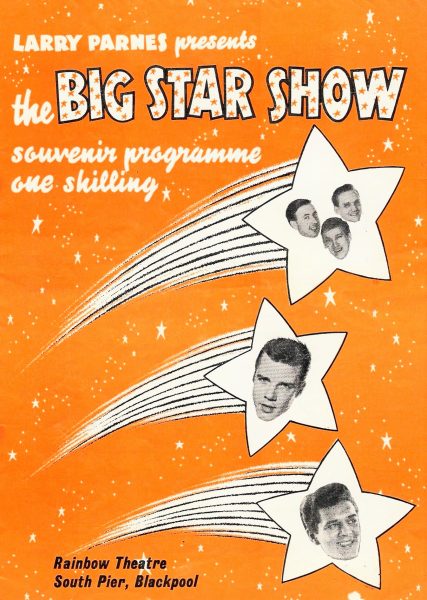 Rainbow – The Big Star Show – 1963 
The Karl Denver Trio, Marty Wilde, Eden Kane, Julie Grant, Larry Burns
Fire struck on two occasions. Firstly in February 1958 at the Rainbow Theatre Grand Pavilion, then again at the newly built New Rainbow Theare in 1965. Alterations were made to the front of the pier and attractive new bars and amusements arcades added. The orchestras have disappeared, but the opened air entertainment continues in the form of thrill rides.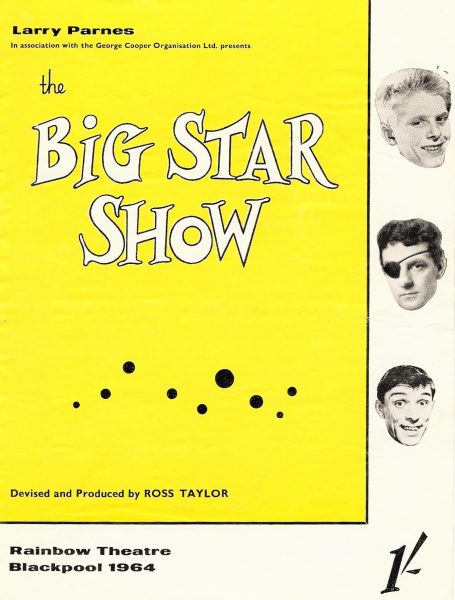 The Big Star Show – 1964
Joe Brown & The Bruvvers, The Tornadoes, Mike Preston, Al Paige, Bobby Bennett
The Big Star Show – 1965
Gerry & The Pacemakers, Gene Vincent, Karl Denver
The Big Star Show – 1966
Adam Faith, Marty Wilde, Lorne Gibson Trio and The Tornadoes
South Pier – Summer Season Programme – 1967 – Day Shows
Sooty Show, All Star Wrestling, Party Show etc.
Boeing Boeing – 1967
Hugh Lloyd, Dandy Nichols, Jimmy Thompson, Ann Sidney, Vicki Woolf, Christina Taylor
Who's Your Funny Friend – 1968
Jimmy Jewel, Glen Melvyn, Raymond Francis, Barbara Miller, Kerry Jewel, Kevin Frazer, Rosalynn Elvin, Lee Hudson
The Big Show of 1969
 Freddie & The Dreamers, The Cool Cats, Bert Weedon, The Paper Dolls, Ray Fell & Roy Kitter
The Big Show of 1970
Freddie & The Dreamers, The Krankies, Ivor Emmanuel, Susan Maugham, Mike Newman
The Big Star Show – 1971
Harry H. Corbett, Kathy Kirby, Dave Dee, Clive Lea, Dave Ismay
The Laugh Inn – 1972
The Grumbleweeds, Alan Fox, Lambert and Ross, Syd Francis and Barbara Law
The Laugh Inn – 1973
The Grumbleweeds, Johnny Ball, Mike Terry, Karen Kay
The Laugh Inn – 1974
Candlewick Green, Mike Terry, She (Kathy, Chris and Ellie) Joe Belcher and Emerson and Jayne
The Jolson Summer Revue – 1975
Freddie Garrity, Ann Emery, Charles Vance, Eddie Davies and Charlie Gray, Steve Sabre and Harry Foster
A Super Summer Night Out – 1976
The Black Abbotts, Alfonso de los Rios, Mike Newman, Duggie Clarke and Pip and Geoff George
Laugh Inn – 1977 
The Black Abbotts, Kenny Smiles, Roy Walker and Paul Derek.
Laugh Inn – 1978 
 Candlewick Green, Neville King, Mick Miller, Russ Stevens and Stocking Tops.
Laugh Inn – 1979
Tomfoolery, Mick Miller, Nuts and Bolts, J.J.Stewart, The Wychwoods and The Angels
The Candlewick Green Show – 1980
Ward Allen, Hal Nolan, McLean Sisters and Russ Stevens
The Candlewick Green Show – 1981
Mick Miller, Walter Gee, Young Love and Star Puppets
Startime – 1982
Paul Shane, Black Onyx, Anderson Sisters, Billy Fontayne and Star Puppets
The Rockin'Berries Fun Show – 1983
Bernie Clifton, The Sheratons, Elspeth, Ray Cornell's Dream Girls
The Dooleys Spectacular – 1984
The Dooleys, Tom Bright & Suzy Breeze, Dawson Chance, Roy Cornell's Dream Girls
South Pier Show – 1985
Candlewick Green, Al Dean
The Laughter Show – 1986 (18th July – 27th Sept)
Frank Carson, Patti Gold
Great Days of Music Hall – 1986 (29th Sept- 1st Nov)
Mike Donohoe, Robert Young
The Laughter Show – 1987 (17th July – 26th Sept)
Charlie Williams, Norman Collier, Cheryl Taylor, The International Mosaics, Vic Collier and The Coco Tots
Ronnie Hilton – 1987 (30th May – 11th July)(28th Sept – 24th Oct)
The Laughter Show – 1988
Tom O'Connor, Mick Miller, Babs & Spider, The International Mosaics and Ritzy Lady
The Laughter Show – 1989
Jimmy Cricket, Dave Lee, Katie Budd, Julian Russell, Renato
The Fabulous Danny La Rue Show – 1990
Mike Doyle and Danny's Dazzling Company
The All New Jimmy Cricket Show – 1991
Morgan Lee James, The Minting Sisters, Basil Soper, Eli Woods, Malcolm Dixon, Ray Cornell Dancers, Dave Bintley Band
 Frankie Vaughan's Golden Showstoppers – 1992
The Kaye Sisters, Alan Randall and Barnaby
The Magic of the Musicals in concert – 1993
Mark Rattray, Rebecca Storm
 Rosie O'Grady's All-Star Music Hall – 1994
Frank Carson, The Bachelors, Norman Collier, Linda Nolan
The Frank Carson Show – 1995
Frank Carson, Duncan Norvelle, Linda Nolan, The Roly Polys
 The Duncan Norvelle Show – 1996
Barnaby, Trilogy, Dick Van Winkle, Dance Experience, Rob Cooke Band
Frank Carson and The Grumblewweeds – 1997
1998 – Replaced by Fanfair