Charlie Parsons – click for more pictures.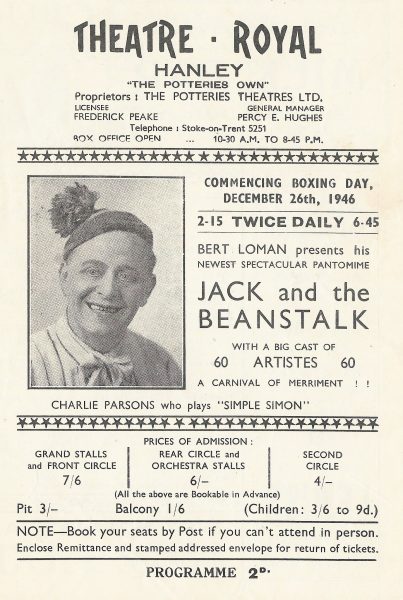 Christmas – 1946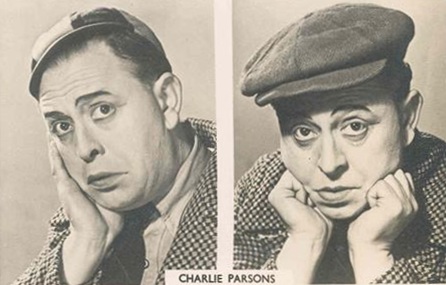 Click on images to enlarge.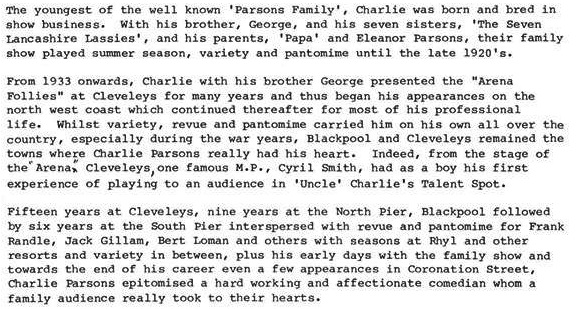 Charlie had a show in Cleveleys for 15 years.
 South Pier – 1952
South Pier – 1953
South Pier – 1954
 Charlie appeared at the South Pier in Blackpool for six years.
 Charlie during the later years at North Pier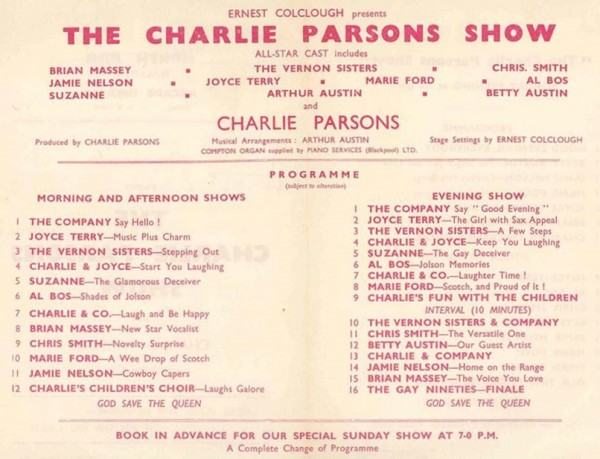 Programme for the "Charlie Parsons Show"
Grand Theatre – Churchgate – Bolton – 1958
 From the mid to the late 1920's
 Dated to between 1914-1916, as Sgt. Parsons was invalided two years after the war began.
 Dates to about 1913
Dated to 1951 in Hull
A nice pre-war picture of the couple, dated to about 1938-1940
Mona was born in 1904
 Click on image to enlarge.
Les Dawson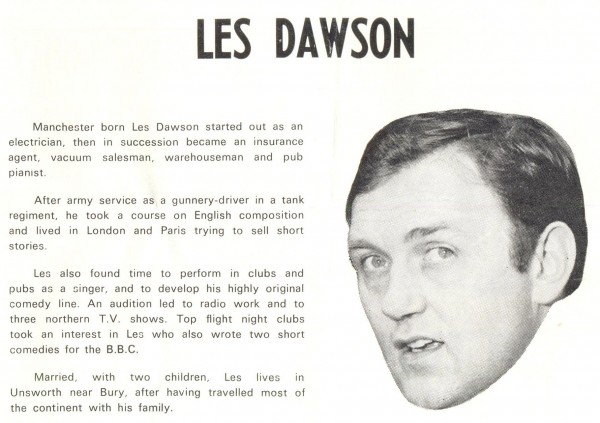 Tessie O'Shea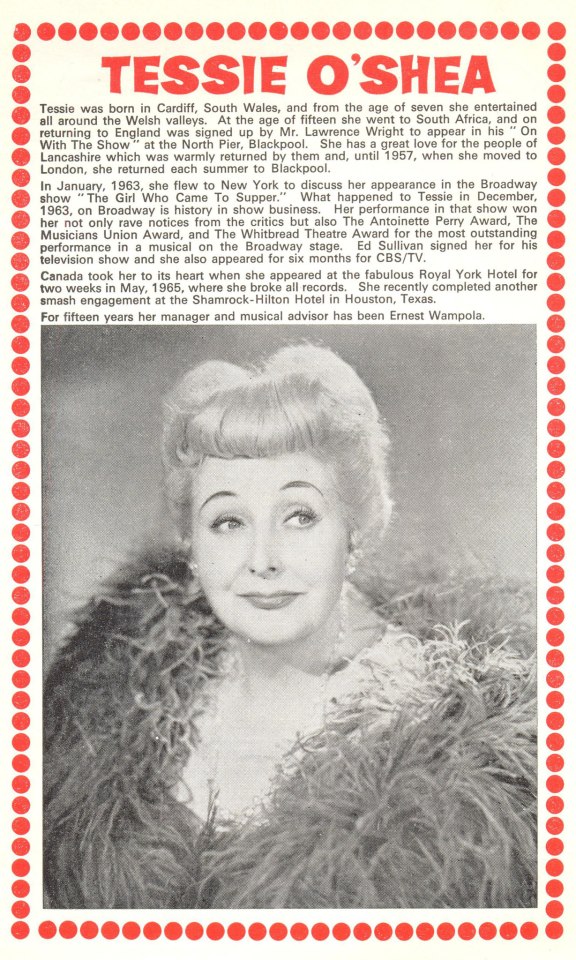 In 1939, Singer Tessie O'Shea moved to Mulberry Cottage on Breck Road in Poulton, close to her beloved Blackpool theatres and to her in-laws the Rollo family, who owned the Bloomfield Hotel, where she used to lodge whilst performing in Blackpool. She also lived on Warbreck Hill Road. It was at Blackpool that she introduced what was to become her signature tune, "Two-Ton Tessie from Tennessee", accompanying herself on the banjo. She played Blackpool every summer until she moved to London in 1957. The Fleetwood Co-operative Society Ltd opened a shop on the corner of Fleetwood Road and West Drive in June.
Violet Carson(Ena Sharples) was born in Manchester on the 1st of September 1898. She moved to 18 Fleetwood Road in Bispham with her sister Nellie after the death of her husband in 1928, where she lived until she died in hospital on the 26th of December 1983 at the age of 85. She was buried at Bispham Parish Church.
Jimmy Clitheroe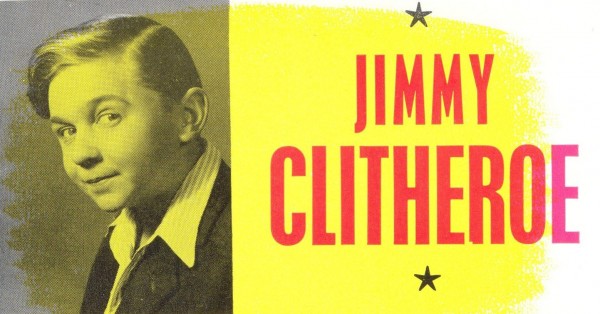 James Robinson "Jimmy" Clitheroe was born at 58, Wilkin Street, now called Highfield Road, in Clitheroe, Lancashire, on Christmas Eve (24 December) 1921, and named after his mother's brother, James Robinson Pye. Clitheroe was also where he was born, in Lancashire, England, the son of James Robert Clitheroe and Emma Pye, who married in 1918.
His thyroid gland was damaged during the birth and he never grew after the age of 11, remaining at 4ft 3in., and could easily pass for an 11-year-old boy, the character he played in The Clitheroe Kid.
He was brought up in Blacko at 14, Spout Houses, a row of terrace houses below Blacko Tower, and attended the Council School up to the age of 12, when he transferred to Barrowford Board School for his final two years.
His first of many pantomime appearances was in 1938 alongside the bumptious "Two Ton" Tessie O'Shea and he was usually cast as Buttons, Tom Thumb or Wishee Washee.
Jimmy had his own radio show from 1958 to 1972 called The Clitheroe Kid, which had more than 10 million listeners at its height.
During the 1940's he worked in variety with Albert Whelan and Albert Burdon, mainly in the North of England, and was soon to establish himself as a firm favourite in Blackpool where he eventually made his home. He built a great reputation for himself and set a record for the number of appearances in the resort working with the greats including Ken Dodd and Jimmy James.
He owned a bookmaker's shop on Springfield Road and the Fernhill Hotel at Preesall, and appeared on Blackpool stages for many decades. His catchphrase, "Some mothers do 'ave 'em", has gone down in history.
He never married, and lived with his mother in a bungalow at 118 Bispham Road, Blackpool.
He died from an overdose of sleeping pills on the day of her funeral, 6 June 1973, aged 51. His funeral was held at Carleton Crematorium, Blackpool.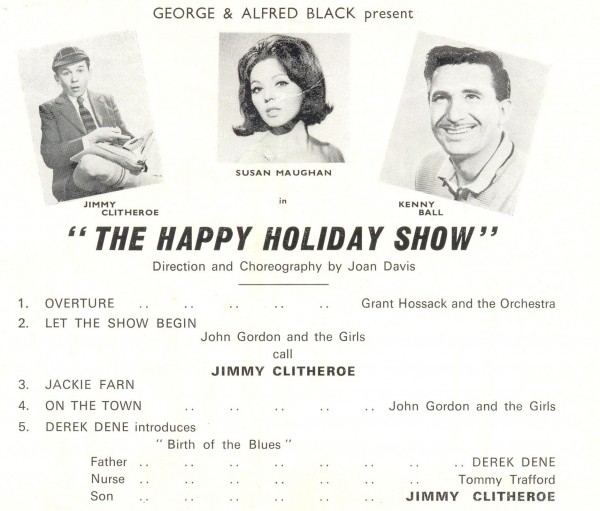 Winter Gardens – Blackpool – 1965
George Formby
Born George Hoy Booth, 26th May 1904, at 3 Westminster Street, Wigan, Lancashire. He was born blind because of an obstructive caul. His sight was restored during a violent coughing fit or sneeze when he was a few months old. A full biography can be found here.
Photo gallery of this great entertainer can be viewed here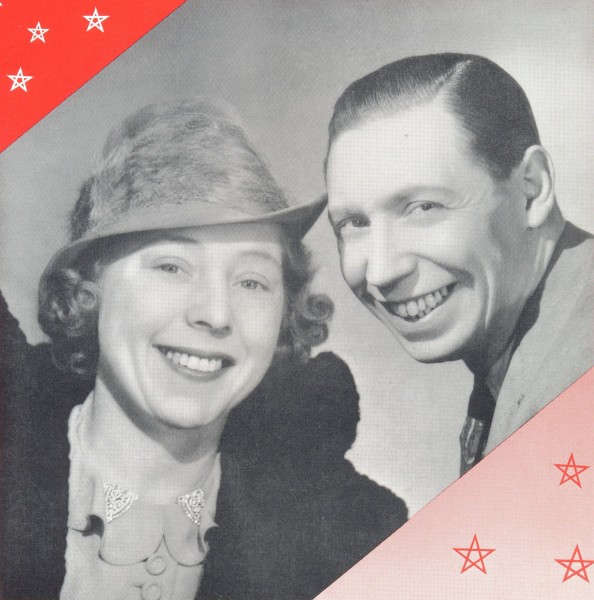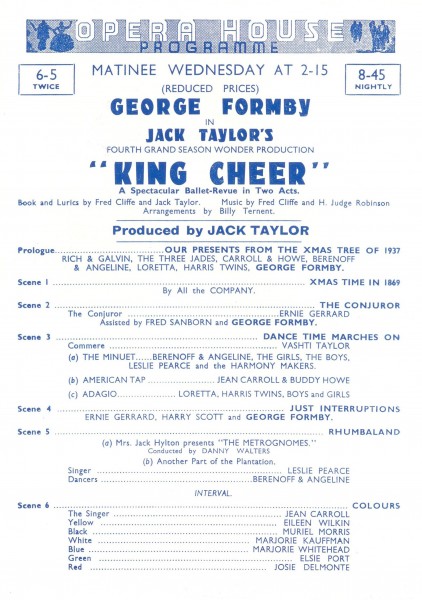 George with his wife Beryl during the late 1930's, and programme from 1937 for the Opera House, Blackpool
When it came to money, entertainer George Formby was as tight as the strings of his ukulele. It was said that he only bought two rounds of drinks in his life. But for all his professional gormlessness, George liked to live in style, and this stone-mullioned marine residence on the front at Lytham St Anne's was his last big splash.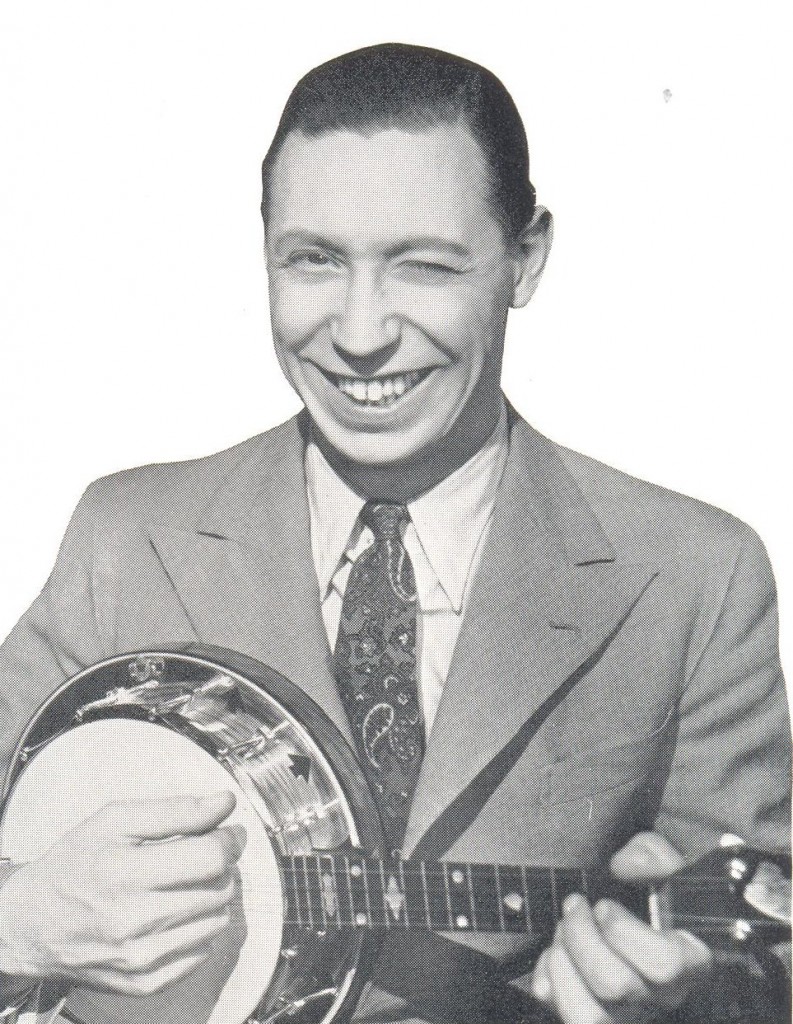 Fifty plus years ago, shortly after Formby's death, his house in Lytham  was the scene of the Fylde coast's sale of the century. In June 1961, it took three days to auction off his house, his Bentley and more than 1,000 items of furniture, clothing and household effects. Everything went under the hammer, even George's underpants.
Thousands queued down the drive and along the promenade. Police were drafted in to control the crowds. The sale was held in a large marquee in the garden. At the preview, people could look over the house and twang untrammelled on his 15 ukuleles.
Even the star's art-deco bathroom of green, black and gold (the house dates from 1932) was included in the viewing. Although almost everything else about the house is different now, that bathroom, with a bell push that can be pressed for service from the bath itself, survives. Fans were fascinated. One man climbed into the bath, and got his wife to take a picture.
Under a huge roof of Westmoreland green slate, the house is built of warm red Accrington brick that outstares any amount of sand, salt and wind. Formby got it cheap. He paid £6,000 in 1953, buying it from the Irish tenor Josef Locke who, finding himself in financial straits, was desperate to sell. (Locke had paid £7,000 for it just seven months earlier.)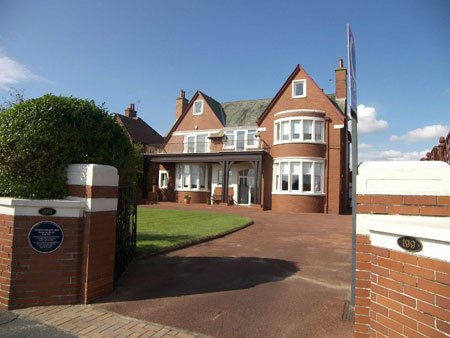 199 Inner Promenade, Fairhaven, Lytham St Annes. Originally named Cintra and built in 1932 from red Accrington brick, Formby renamed it Beryldene after his formidable wife (and business manager) Beryl.
Every house they had ever owned – and there were many – had been called Beryldene, and this would be no different.
But even in 1953, Formby, his career and health waning, suspected that his magnificent new seaside home would be his last. This particular Beryldene would remain George's favourite, the one within whose walls he would achieve eventual peace of mind.
In 1937, Formby bought Garthallen at Little Singleton, five miles from Blackpool, a five-bedroomed property set in four acres of landscaped gardens, complete with tennis court. Garthallen became Beryldene, as did Sullom End, a farmhouse near Garstang, to which the couple moved in 1945. Here, Beryl saw to her elderly parents, while George tended a herd of four pedigree cattle.
From Lancashire they moved to Cheshire, taking Beryl's parents to The Spinney, near Knutsford. This, too, was dubbed Beryldene, but finding it too remote, they returned to Fylde in 1949 and a house in the Fairhaven area of St Anne's called Linden Lea. Not content with one new Beryldene, the Formbys bought a tiny thatched cottage on the Norfolk Broads, handy as a base for cruising in their boat, Lady Beryl.
In the early 1950's, Formby bought a 24-room mansion at Foxrock, outside Dublin, telling a reporter who spotted him in the agency: "I'm sick to death of the taxman robbing me of 90 per cent of my earnings." The Irish house did not last. Within months he had sold it, along with his other properties, and bought Cintra. But shortly after settling in at St Anne's, Formby suffered a series of reversals.He was stricken with stage-fright, bouts of depression and a heart condition that triggered various stomach ailments. He crashed his car twice, discovered that Beryl was suffering from terminal cancer, and watched as she hit the bottle.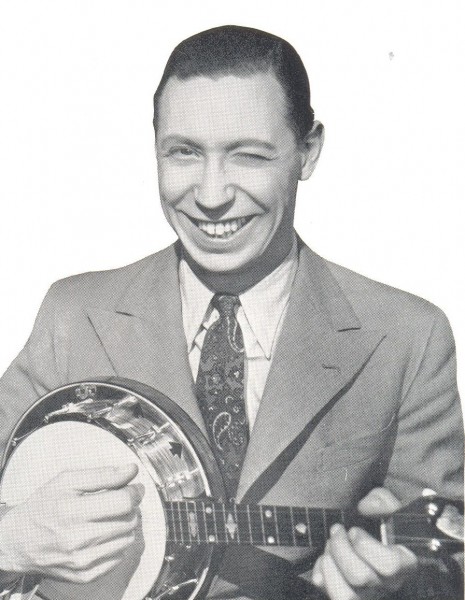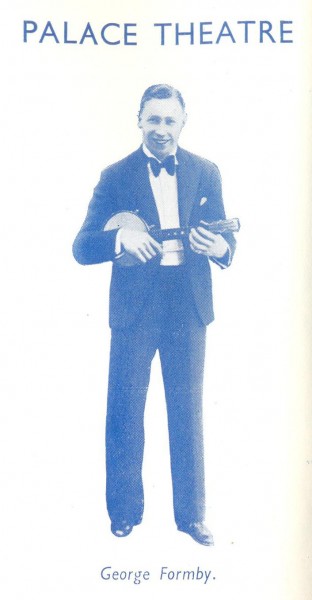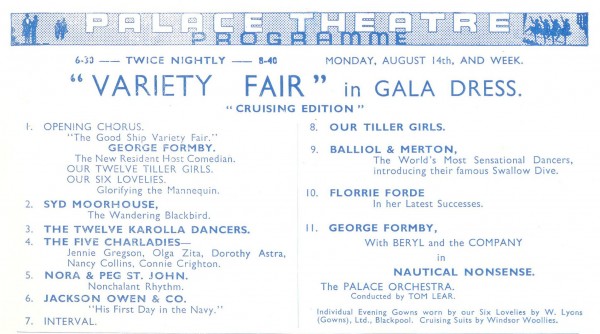 George as seen in about 1939 (top left), and in the early 1930's (top right). Programme with George appearing in 'Variety Fair', at the Palace, Blackpool in 1933.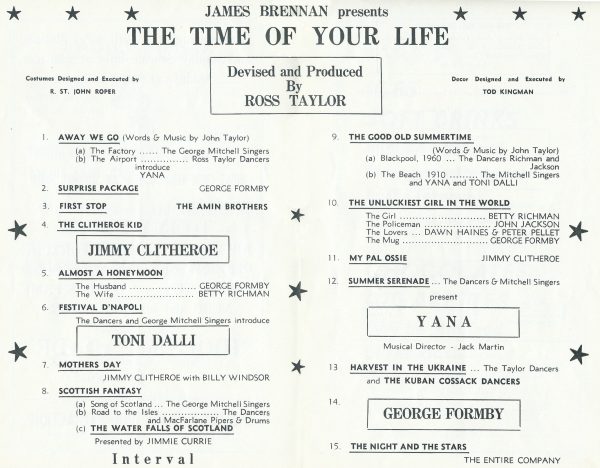 The time of your Life – 1960 Summer Season
George Formby, Jimmy Clitheroe, Yana and Toni Dalli
In June 1960, he opened in a show in Blackpool at £1,500 a week, and started an affair with the buxom, bisexual singer Yana. Meanwhile, he had become sweet on Pat Howson, a 29-year-old teacher and daughter of a family friend.Beryl flew into drunken rages when she heard of Formby's philanderings. She should not have been surprised. Their marriage had been sexless for years. As Mr Bret explains: "This indomitable woman had ruled the Formby roost like a Spartan tyrant – granting George neither his freedom to enjoy the fruits of his labours, nor the requisites of a normal and healthy marriage." Beryl died on Christmas morning, 1960.
Things should have got better, but they got worse. Formby pulled out of panto with a dreadful cold that threatened to turn into pneumonia. Miss Howson visited him in hospital every day, but he discharged himself in order to organise the sale of Beryldene. Yana claimed he planned the sale to expunge all memories of his wife. "My life with Beryl," he admitted, "was hell."In February 1961, George had a heart attack and received the last rites. In hospital, his chief concern was to sell Beryldene as quickly as he could, even at a loss. But on March 6, two days before his planned wedding to Miss Howson, Formby died. In the biggest show business funeral in British history, 150,000 people lined the route.
Details of the auction can be found here
George left almost everything to Pat Howson. In the 10 years that followed, his family bitterly contested his will. His aged mother swore that even if she failed to live to see it, her daughters would fight "that little floosie schoolma'am with their last breath". Finally, after prolonged legal wrangling, the family accepted a compromise – and once-and-for-all payments – from Pat Howson. But it seemed that George's money was jinxed. Pat died in 1971, aged only 46.Fast forward 40 years. The Formby house – it fetched £9,000 at the auction – is no longer called Beryldene. By extending into the attic space where George stored his racks of show costumes, the owners have created a magnificent seven-bedroom home with four bathrooms. Their kitchen was George's dining-room.
Echoes of George and Beryl remain. The stunning dining-hall, for instance, clad in burr walnut with lamps built in to the newel posts at the foot of the stairs. At the back of the house, original art-deco stained glass has been rehoused in uPVC frames.Dame Thora Hird believed George Formby was a legend sent by God. He seems to have had a legendarily miserable life at Beryldene.
George Formby's last house at St Annes gets blue plaque. More details can be found in this great article.
Link to a website full of excellent pictures and articles.
Dave Morris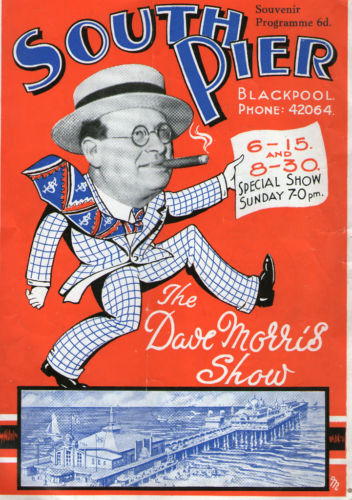 Dave Morris was a music hall comedian who made a successful transition to radio and television. He was born on 5 July 1896, son of Samuel Morris and Lily Reubens. Samuel, a tailor, lived at 110 Wilson Street, Middlesbrough.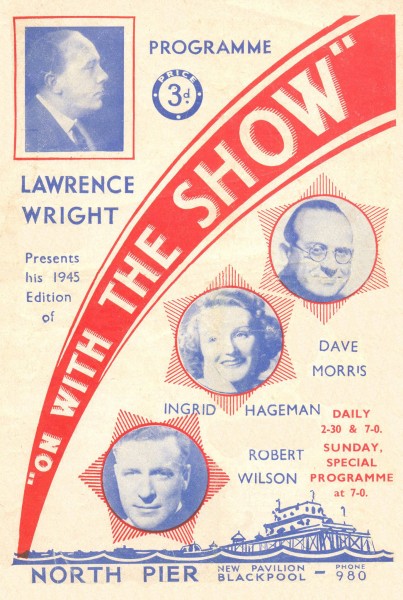 In 1937 he began a nine-year run of summer seasons at Blackpool's North Pier, by now working as a northern comic in his famous straw hat and very thick glasses. He had extremely bad eyesight as a result of having been gassed in the trenches in World War I and thus was not conscripted for the Second World War.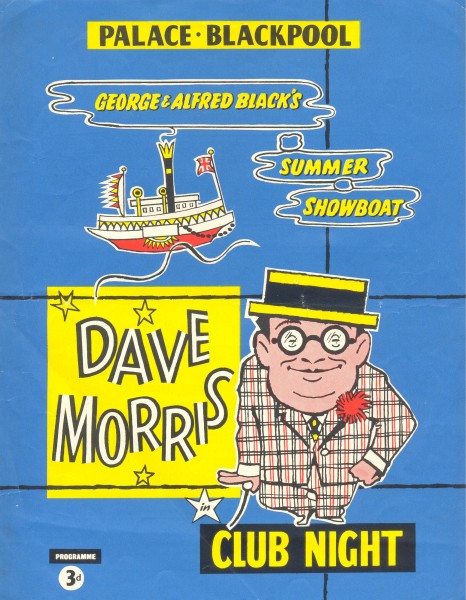 After nine years, he refused to go on playing matinees and transferred to a long run at the Blackpool Palace for George and Alfred Black. He worked as a sketch comic also doing some stand-up material. In 1950 Joe Gladwin joined him as a 'feed' and stayed with him for twelve years.
In 1948, he toured with 'Paradise on Parade' after a summer season at the South Pier, Blackpool.
The radio series 'Club Night' was launched in the BBC Home Service north region on 7 November 1950 where it ran for 52 editions until 6 June 1955. The programme was set in a fictitious working men's club 'oop north.' With his trademark cigar, straw hat and glasses, Dave Morris was the somewhat loudmouthed 'know all' club treasurer, ably assisted by comedy actor Joe Gladwin as Cedric and by Liverpool comedian Fred Ferris as 'The Wacker' whose primary ambition seemed to be to scrounge a drink.
Dave Morris died at Blackpool in 1960 (aged 63–64)
View other Famous Blackpool Entertainers